Introducing... Pearl!
About Pearl:
Beautiful Pearl certainly caught the public eye when advertised but is still currently up for adoption.
She was found with her brother, Percy (now adopted) very early on, they were a mere couple of weeks old when they were taken to the Romanian vet in a cardboard box. From there the vet placed the puppies in the care of a lovely foster carer until they were old enough to travel to the UK.
Romanian puppies can come across to us under socialised, which seems to be the case with Pearl. She was terrified coming off of transport and would scream in fear when picked up or handled, she also kept her distance on transport night and was very wary of people. We have been working hard to socialise Pearl with other dogs and our volunteers so that she sees them as a positive.
She now is more tolerant of handling but can still be nervous. Her owner will need to take things slow with her and ensure that all handling is positive. She will also be required to attend training and socialisation classes to set her up for success.
Pearl can be affectionate, but also independant and incredibly food oriented, as she is just a baby her attention span is very short and so adopters will need to have a good level of patience with her. She may not want to interact with her adopters for a while, potentially a few days and this will need to be taken into consideration. She has not seen much of the world and is not a typical UK puppy. She will get there in time but needs to go at her own pace.
She is a sweet, clumsy and goofy girl with incredible potential, she just needs the right home ot help her succeed.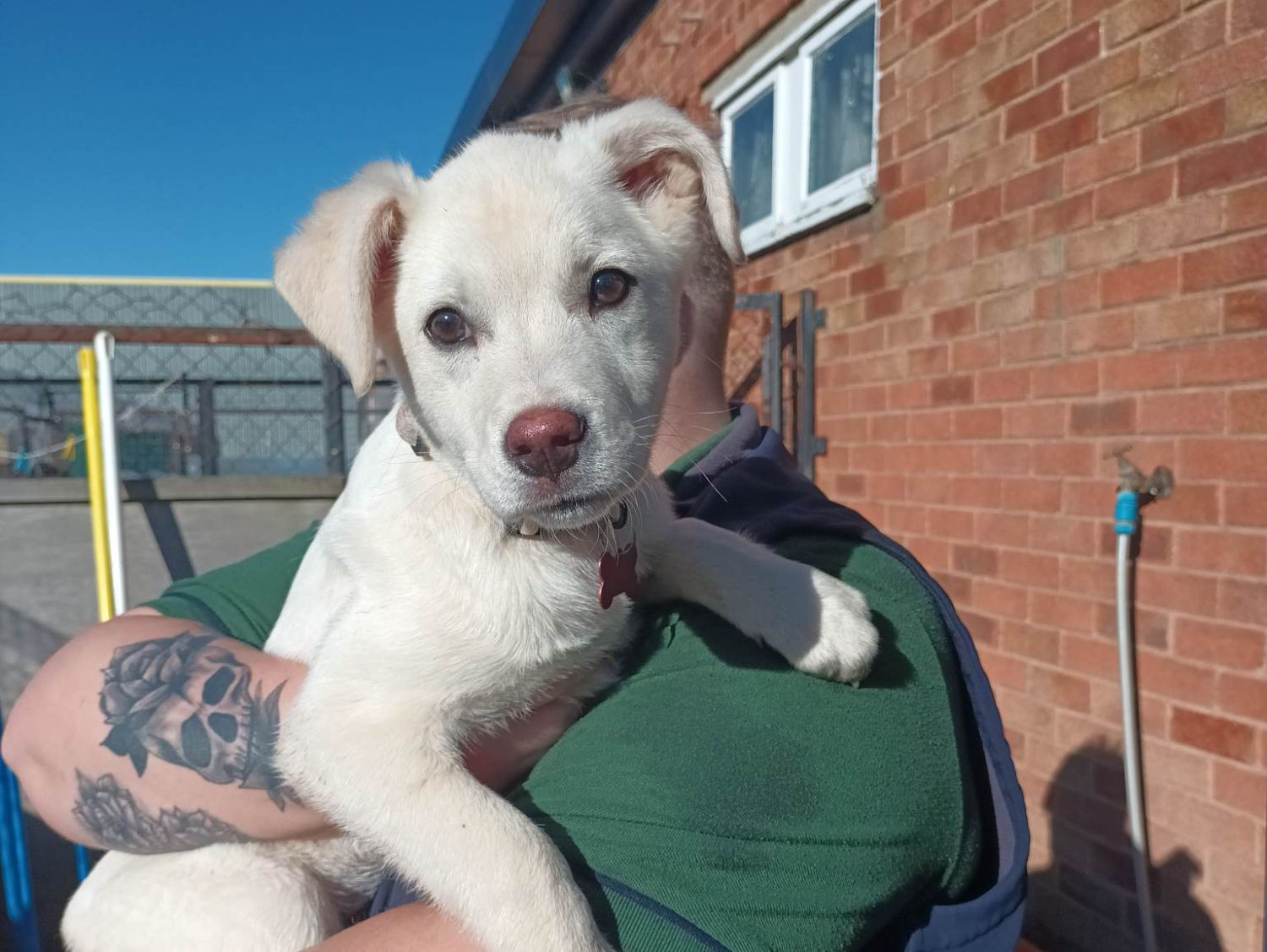 With other dogs:
Pearl has been mixed with a number of dogs whilst at the rescue, she can be playful but can also get overwhelmed if they are full on. She was taken into a puppy class with well-socialised UK dogs and found it quite scary, so will need to gradually be introduced into groups of dogs. She will prefer 1-1 training with a trainer and could potentially move onto group classes once she has built up her confidence. At the moment, Pearl is not ready for a doggy daycare environment. She can be independent when out with her friends, she will potter around doing her own thing, she will play from time to time but also tends to keep herself busy (and comes out of the field very mucky at times!). Pearl does use other dogs for confidence and could live with a well-socialised, polite dog that will not overwhelm her, she could also live as an only dog but please do expect her to progress slightly slower.
Pearl has just started lead training. On her own she is incredibly timid and becomes overwhelmed quickly, but when walking with another dog she is more confident to go out and explore! She will require a period of time in the home with just garden exercise and then gradually build up to walks with increased lengths of time.
Pearl has shown us that in future she could become an active, potentially high-energy dog, she will require a family that is prepared to give her the exercise she needs
Puppies of Pearl's age should not be left longer than 2hrs at this age, once she is older she can be trained to be left up to 5 hours maximum
Requires further lead training
Pearl has just started lead training but will require this to continue in the home until she is walking confidently on lead
Pearl will require basic manners training when she is settled in the home, continuous dog socialisation and potentially further training in future
Is Pearl your perfect match?
Click the button below to start the adoption application process!