That's right, it's not just dogs that Oakwood help!
In some urgent case's we have cats come into our care, this may be to escape the horror's of a Romanian kill shelter or helping UK stray cats that have no where else to go.
Please read the tabs below for infomation on our cats and adoption process.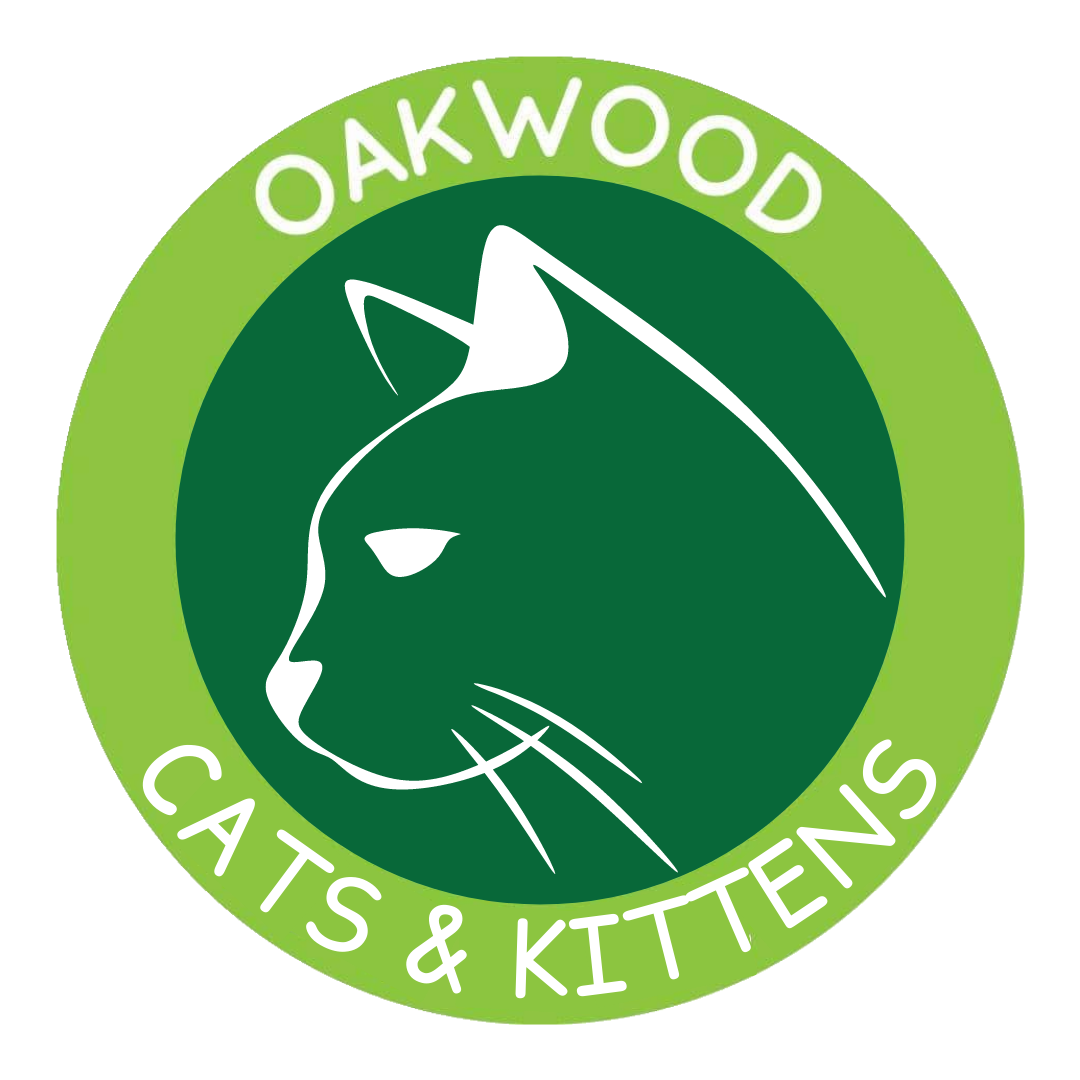 Below is all the information you need regarding our cats and kittens that are available for adoption.
Romanian or UK feral cats can be different to your average UK cat due to their ancestory and upbringing.
The cats have never lived in homes before, so they do not understand the boundaries you may set. When the cats enter the foster home they are introduced to a home environment, however, they will only be there temporarily, so an indepth assessment is difficult to achieve. Your home will be set out differently, smell different and feel different to them, there may be behaviour exhibited that isn't seen in the foster home.
In the foster home the cats are learning to use a litter tray but toileting accidents may still occur. It is important to provide your cat with a litter tray in a quiet area so that they feel safe using it.
Cats can be destructive if not provided with enough mental stimulation or activity. This could be, but is not limited to: scratching tables, chairs, sofas, stairs, wallpaper, knocking ornaments off of ledges, knocking possessions from a high surface and breaking them, getting into food containers/bags, chewing items, destroying blinds and more.
They will use platforms! Anything they think they can jump on, they will! This could be tables, chairs, wardrobes, door tops, sheds, storage containers, kitchen surfaces, sofas, christmas trees and more.
The cats will seem hungry for weeks - they are recovering from starvation and will need feeding multiple times a day whilst they are learning that food is not a rarity in the home. They will try to eat everything and everything they can get hold of. You will need to ensure that any edible item is shut away from the cat.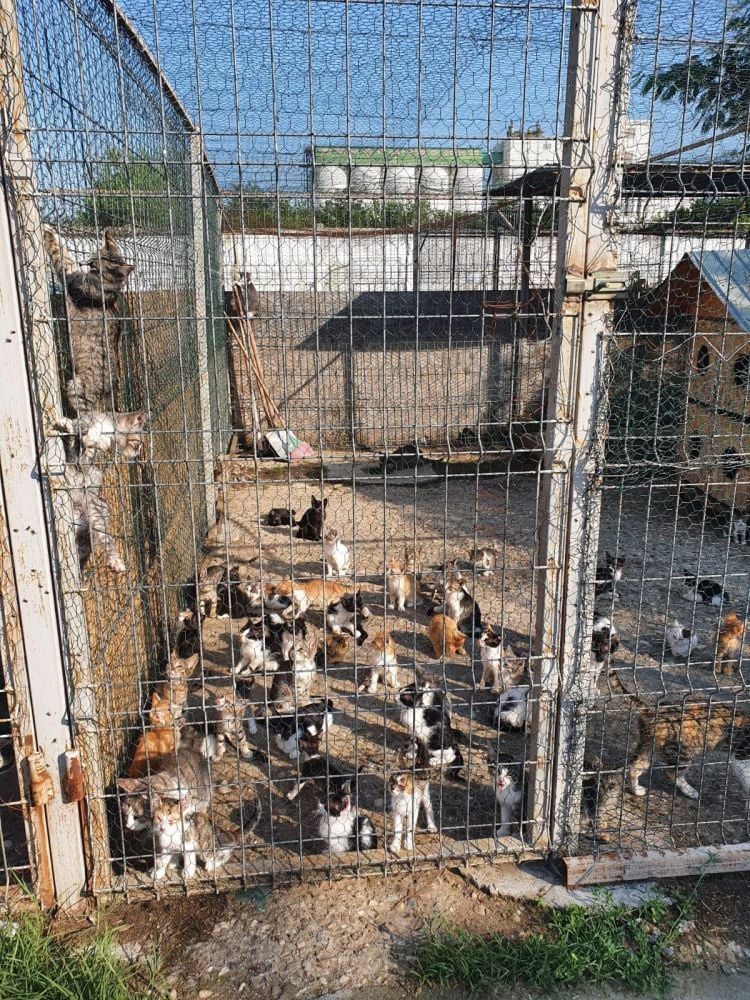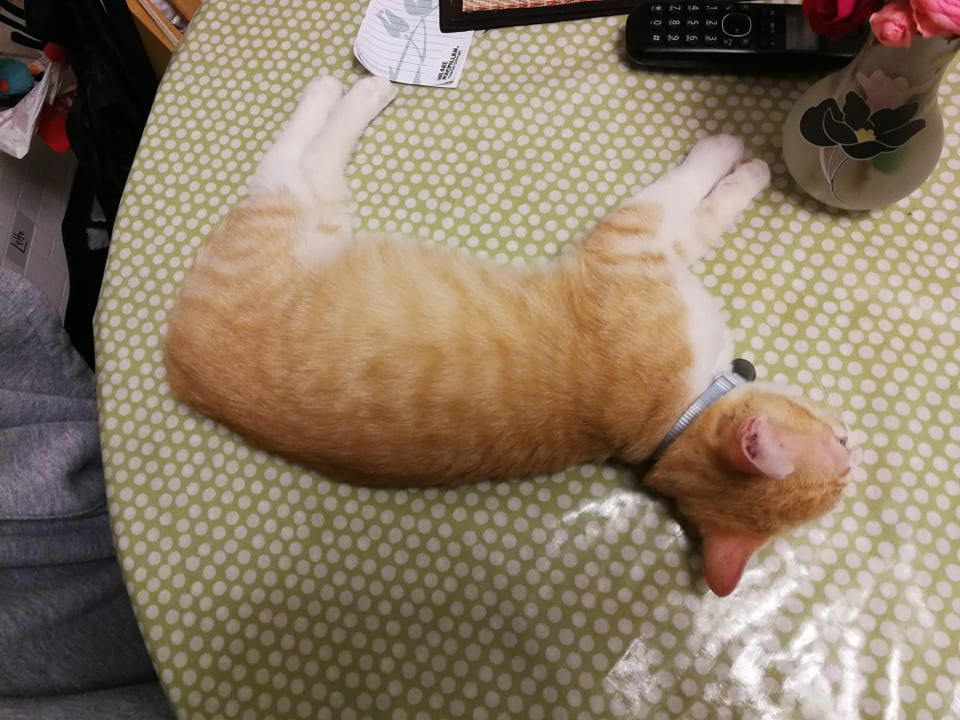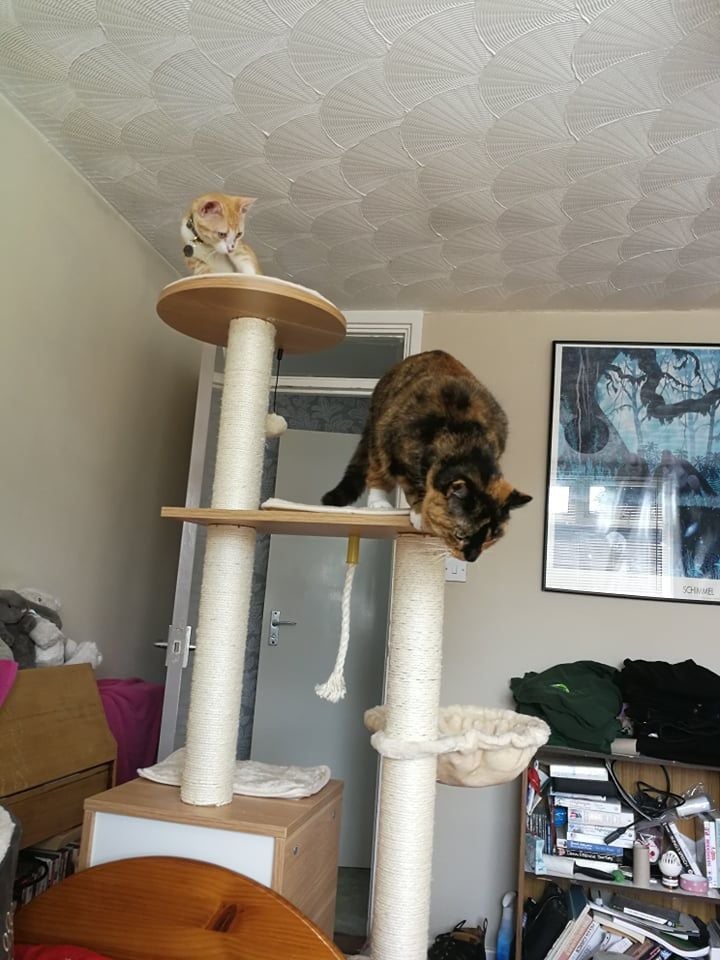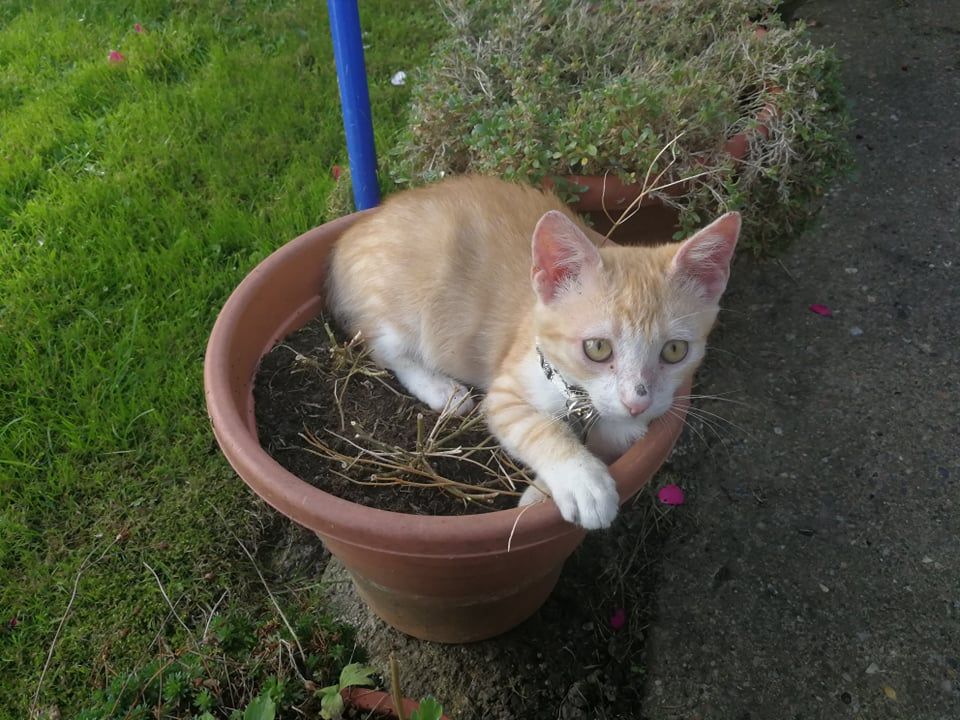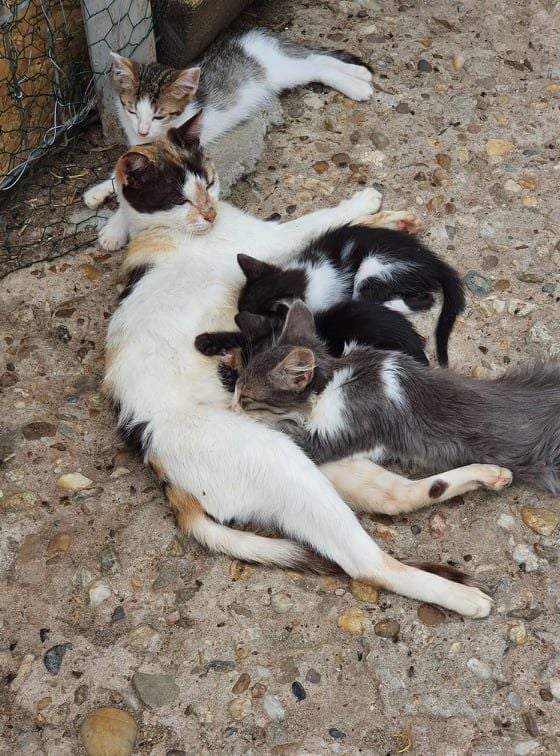 Cats: zoomies and claws...
Due to their street-cat backgrounds, they are much more active in the night than your usual UK moggy. The night time is the time that street cats can roam around without people trying to get at them.
This does mean that things in your home are likely to go bump in the night, you may come down to find things upside down in your home because your cat has gotten excited and had a zoomie session (high excitement, running around, jumping around and scaling things).
Zoomie sessions can happen at any time - you may see you cat zoom past you and do some strange things in the process. This is normal, a way to counteract it is to ensure they are getting enough play and mental stimulation.
Zoomies can also mean claws... It can happen when a cat becomes excited, stick their claws in and climb you like a tree, or hide behind a door and jump out and claw you as you or your child are walking by, they may even charge you and claw you if excited or aroused. It is important to remember that they are not attacking you or your child, they are excited and this is how cats play.
Not all our cats are suitable to live with children and those that are parents are fully responsible for supervising their children around the cats. If provoked, cats will scratch and can bite hard.
You must supervise interactions with the children and the cat to ensure bites or scratches are prevented. Some scratches and bites may still happen, you must ensure that taking on a Romanian cat when you have young children is the correct decision for you, if you are not expecting the odd hiccup to occur, a cat is not the pet for your family.
Cats must not be allowed to sleep on the child's bed
All interactions must be fully supervised
Children must not poke or try to interact with the cat whilst eating
Children must not be allowed to pick the cat up and manhandle the cat, they will be scratched or bitten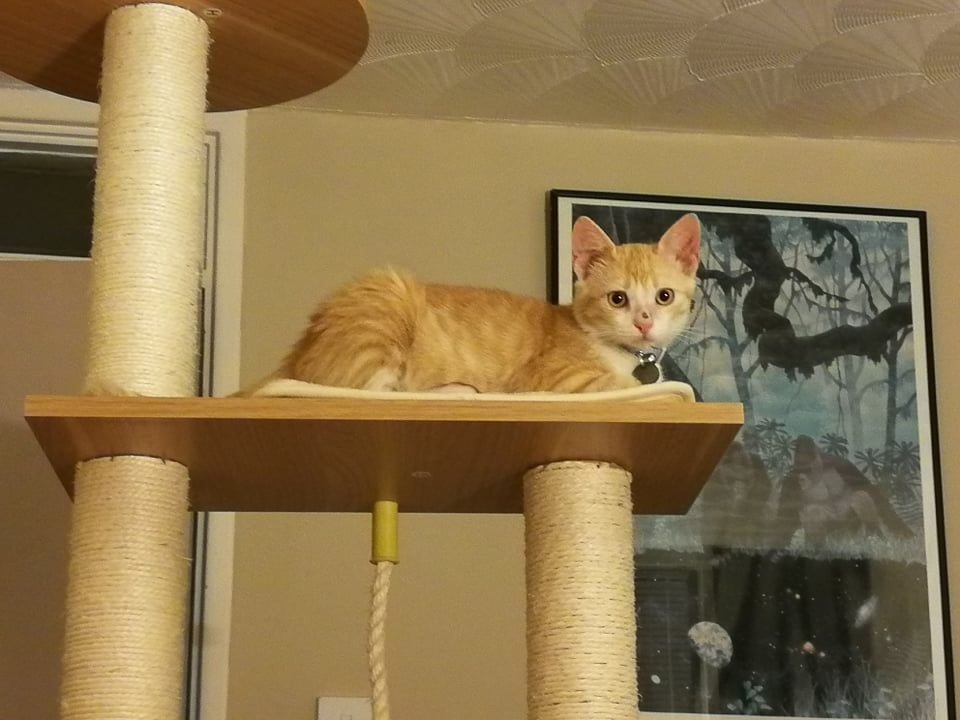 Due to the cats/kittens spending a lot of their life in a pen they have no road sense and are likely to be at risk in a busy area.
House-cats spend their time inside and use a litter tray for the toilet. If you do not have a garden, or have a shared/communal garden you will need to keep the cat indoors as a house-cat. You can walk the cat on a harness and lead around the outside space.
If you have a private garden but live close to a main road or a busy bus route you will need to keep your cat as a house-cat. You can walk the cat on a harness and lead around the outside space.
Letting them out into the roads could result in the cat getting ran over or spooked by the traffic and losing their way home.
If your garden is private and you do not live near a busy road you can let your cat outside, however, they must be quarantined indoors for a minimum of 4 weeks whilst they get used to the home.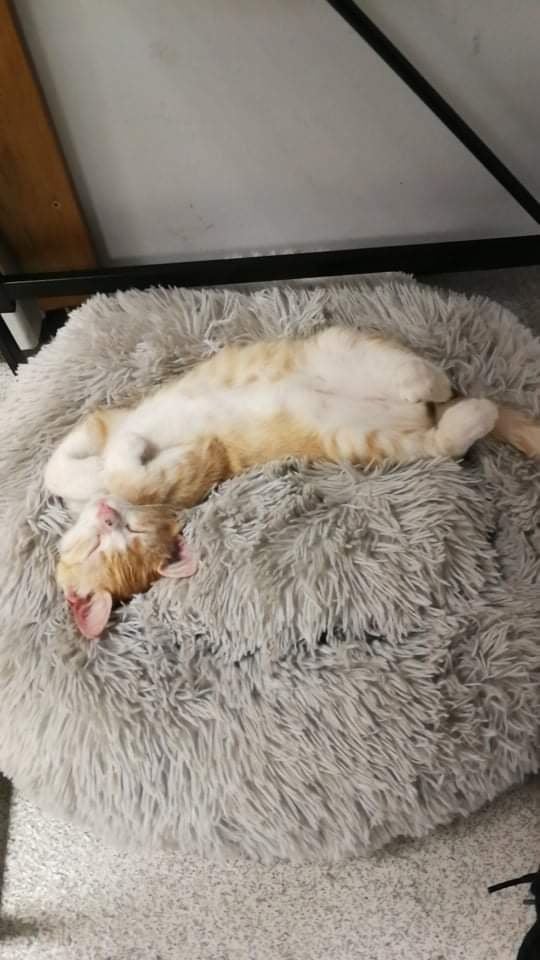 If you've made it this far, we promise there are positives to adopting a semi feral cat! They are the most grateful cats you will have ever met. Seeing them relax in the home and start to come out of their shells is one of the best feelings in the world!
They become comical, loving and affectionate animals that keep you smiling!
The first time you hear them purr at you is very likely the first time they have ever experienced love and affection from a human, and it is very likely the first purr they have ever done to a human!
You give them the chance to experience comfort and change their lives forever...
Sven | Approx 8 months | Male | UK Moggy
Meet Sven!
Sven was born on the streets of Hull as part of a litter of feral cats that look residence on the wasteland behind Oakwood.
Luckily Sven and his siblings were able to be caught and have been living in staff foster to help build their trust.
Sven was a typical feral kitten when he first arrived in foster. He has realised over the past few weeks how much he enjoys a belly tickle and is constantly dropping at his foster carers feet asking for more tummy tickles.
Sven absolutely loves playtime and will play with anything and everything. He loves both entertaining himself and playing with the foster carer. He has a big range of toys which he loves and sometimes he's happy to just sit in a cardboard box and chew and throw that around :P He is definately a character that will keep you laughing!
Although Sven is progressing well, his new family will need to be aware that moving homes will knock his confidence again and he will need time and lot's of patience to build up this trust again.
Semi feral cats should not be let outside for a minimum of 6 months depending on their level of confidence at the time.
Sven has shown interest in the resident dog and cat in the home so we could consider a home with a very calm dog or cat.
Applications are now open for Sven.
Kids: No - Adult only (16+)
Dogs: Potenially - calm natured, used to cats
Cats: Potentially - very calm and lived with a cat before