Introducing... Jude!
About Jude:
Jude was one of the most confident dogs coming off of transport and came over for tickles shortly after! He is a very sweet boy with a terrier/slight corgi look about him and is very sweet!
He is short in height but long bodied which makes him a small-medium sized dog. So far Jude is enjoying spending time with staff and volunteers, and is very food oriented!
He does have an overbite but by heck, this does not affect the way he eats! He just looks a bit goofy at times when you catch him on a side profile.
Jude does enjoy touches and strokes but at times can be a bit anxious with too much handling and will wriggle away, his owner will need to build this up with him overtime so that he is more comfortable.
Once aspect about Jude is that he is ridicuously hard to photograph as he either wants to sniff a smell across the field or be right up in your lap! So applicants will only see his true beauty in viewings!
He has the potential to be a cheeky boy in future and will need gentle guidance to know what is and is not acceptable behaviour.
As he is quite social with people he can struggle to be left on his own and has been known to cry in his kennel for attention. He will best suit a family that are at home more and can build up the amount of time he is left.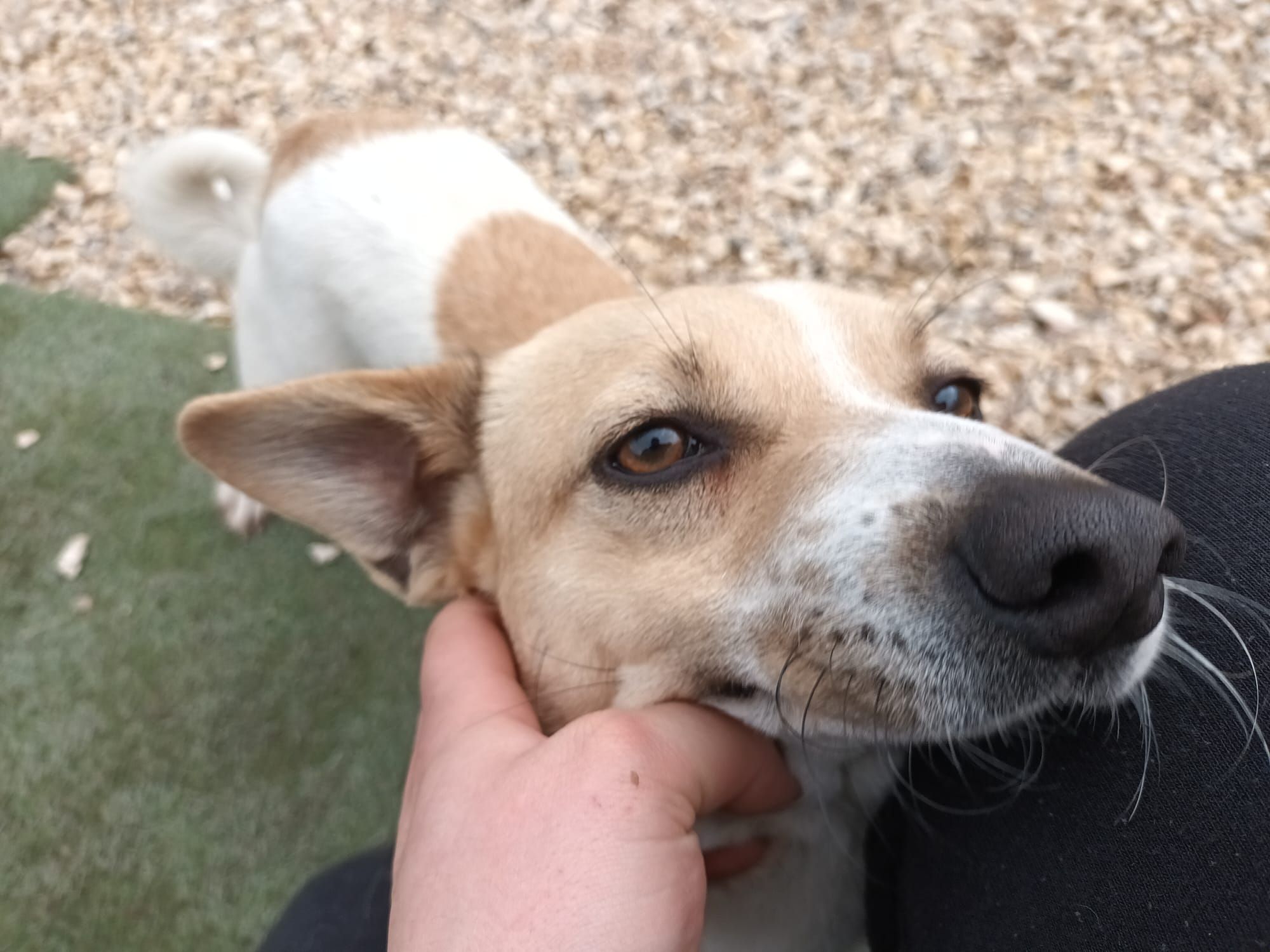 With other dogs:
Jude can be dog social and has made friends with Mini and Lucky (now adopted), fairly quickly. He isn't particularly playful but seems to enjoy their company, however, Jude has displayed signs of food guarding. This means that he can become grumpy with other dogs if there is food around. This means that Jude will need to live in the home as an only dog, and interactions with visiting dogs must be well managed. He has not shown an interest in toys at this moment in time, but may potentially become protective over items once he settles in the home. Jude could have doggy friends on walks. He has not displayed guarding behaviours around people, but staff will explain how to continue to keep this positive in the home to prevent this from becoming a problem.
Jude has just started lead training, he was very nervous at the beginning but once outside became curious of the smells around him and settled into his walk. He will require some more training with this but is progressing well.
So far Jude has shown a moderate level of activity, however this has potential to increase once settled in a home
Jude could be trained to be left 3-4hrs in the future, but to begin with he will need to be left as little as possible as he struggles with being left alone
Requires further lead training
Jude is doing well with lead training but will require extra support until he is more confident on a lead
Jude will require at minimum, a basic level of training when settled into the home
Is Jude your perfect match?
Click the button below to start the adoption application process!