Introducing... handsome Bobo!
Bobo's Story:
Are you looking for a new best friend? Then look no further than Bobo!
Bobo arrived to us when he was just 4 months old, he escaped the horror's of a Romanian kill shelter and came to Oakwood to find his forever home... He was lucky enough to be adopted but sadly it wasn't forever. After 17 months in the home Bobo's family returned him - we are now determined to find Bobo the forever home we promised him.
About Bobo:
Bobo really is a fantastic boy. He loves meeting new people and the more he knows you the more affectionate he gets. He is very food orientated and has a small level of basic training. Bobo loves to run around and play, he's an active boy that would benefit from a home where can enjoy nice walks and zooming around a garden.
Bobo does walk on a lead however his some work needs to be put into this. He can panic and spook easily, when this happens, he just wants to get back home as soon as possible - or in the case at the moment - back to kennels.
Bobo unwent surgery on his knee several months ago and due to having to be on extended cage rest, he sadly started developing handling issues. He can be qiute sensitive to being touched around his back end / legs and has been known to give a little nip to warn you not to mess about around that area.
Unfortuntaley, Bobo will need his second knee operating on at some point in the future too. The surgery he will require is called TPLO and it's for cruciate disease. It will all be covered by Oakwood but he will be requried to be on cage rest for at least 6 weeks again. We need someone that can be strict and really commit to this but also who will keep him entertained whilst he is having down time with enrichment and who will spend time with him with gentle fusses and lots of training his brain to prevent him from getting bored.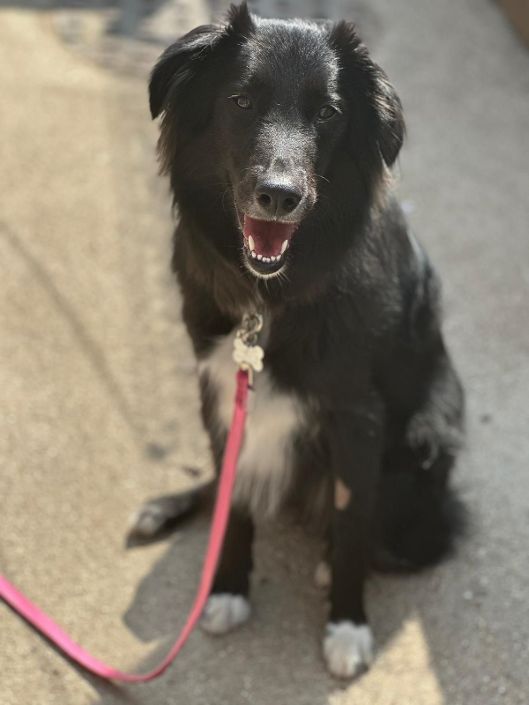 With other dogs:
Bobo has proven that he can make dog friends but it's all a bit too much for him in kennels and he can be reactive as everyone is barking at each other. We believe he could make some dog walking buddies though with the right introductions.
Bobo is a young boy with lots of enegy, he will thrive in a home that can give him nice qiet walks and plenty of enrichment/play time. He LOVES his toys.
Bobo is very people oriented and will require training to build up his time alone, to begin with he will need to be left as little as possible
Bobo needs work on his lead training. He can walk lovely and is harness trained. He can get spooked easily though and will just want to head straight home once he is spooked - his confidence definately needs a lot of work
Bobo has a basic level of training
Is Bobo your perfect match?
Click the button below to start the adoption application process!