Introducing... Toothy Toby!
Despite his cheeky smile unfortunately Toby doesn't have much to be happy about after unfortunately being returned into our care after 3+ years in his home.
Toby's Story:
Toby arrived at Oakwood in October 2018 after being reserved in the Romanian kill-shelter by Oakwood staff. Toby was a very young and sweet pup that squeezed himself though pens, narrowly avoiding being attacked by other dogs to get the attention of the staff , Toby wanted to be saved and wanted a chance at a forever home.
At the centre Toby was a mischievous pup, he was playful and had such a character to him, he could be aloof at times but also affectionate when it suited him. He also had a couple of dog walking friends but was independent and enjoyed solo walks too.
Toby was adopted in 2019, he was still young and required training to keep up with him. His previous owners attended sessions with him and although still a character, was doing very well. He did and does still have some guarding issues which have been managed in the home and at the rescue.
Unfortunately in 2023 we got a call advising that the dynamics of the home had changed and Toby was not coping well with the change. Sadly, Toby came back to us in the saddest return appointment we have had to date. Toby was very unsettled for a few weeks, wouldn't eat, wasn't interested in attention and moped in his kennel.
Over the last few weeks we have seen Toby begin to open up more and seek affection from us and volunteers.
He is a sweet pup with a bit of an underbite that does enjoy affection, he enjoys going out for walks and exploring with our volunteers.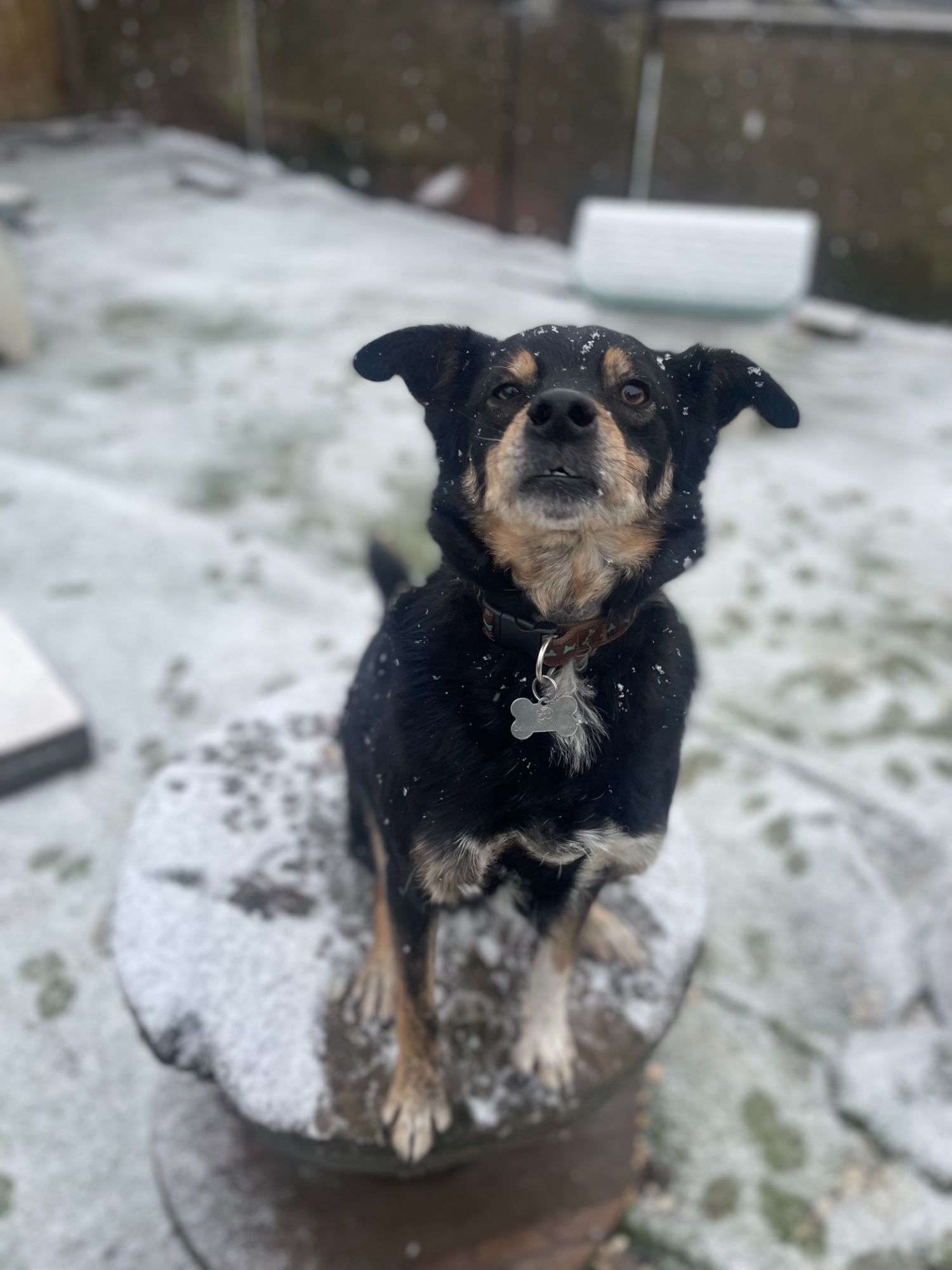 With other dogs:
Toby was always been selective about the dog company he keeps. He is much happier going for walks with other dogs than off-lead play and would like to live as an only dog.
Upon returning to the rescue Toby has walked alone and with a couple of other dogs. He can be tolerant of bouncy dogs on walks as long as they do not leap on him.
Toby does display guarding issues around food - which can be managed, so is looking for a an adult-only home with some doggy experience. Toby is not a fan of children so cannot live with children or have children visiting regularly. If children are to visit in future he will need a room he can be separated off into as he finds children scary and would prefer to chill by himself. Ideally, a quieter home without lots of visitors would be his dream - Toby can become very attached to women in the home and is hoping his forever mummy is reading his page...
So far Toby has shown a moderate level of activity, however this has potential to increase once settled in a home
Toby could be trained to be left 3-4hrs in the future, to begin with he will need to be left as little as possible
Toby is lead trained but can at times struggle with dogs in the distance, staff will advise how to manage Toby's training on walks
Further training required
Toby has a basic level of obedience but loves to learn, he also requires further training on walks, Toby will love to do more training with his family
Is Toby your perfect match?
Click the button below to start the adoption application process!